In case you live under a rock, #GivingTuesday is a movement to create a national day of giving to kick off the giving season added to the calendar on the Tuesday following Thanksgiving, Black Friday and Cyber Monday. It's also yet another excuse to use hashtags in every day language. Since we devote SO MUCH of our energy to consumerism, Giving Tuesday is a great way to take a break from the gimme-gimmes.
I've blogged before about my seat of privilege – I'm lucky to have a home, a job(s), and my health and while a lot of my "luck" came from hard work, I'm also careful to acknowledge that I got to do that hard work because of the people who came before me (hi mom and dad!), the people who fought for my rights, and the sheer luck of being born into white, middle class America.
That's why, despite my scary student loan payments and intense desire for the Alexander McQueen Peep Toe Skull Pumps, I give back to charities all year long. I tweeted earlier about the charities I've donated to this year, but I thought I'd give a little insight into MY giving this year, so that you might reflect on your luck and give a little to your favorite charities too.
I've never had to go hungry because of circumstance, but this year Congress ended a boost in funding for SNAP benefits – food assistance for millions of Americans including veterans, the elderly, and children. This meant that lots of needy folks would go without. This Thanksgiving, in addition to the $5 donation to my local food pantry, I donated to the GBFB to help provide meals to those who needed them. $50 provides 150 meals.
National Eating Disorders Association
I may have never gone hungry because of circumstance, but I struggled with an eating disorder for years. After a former coworker publicly discussed her brave battle with ED, I happily donated to NEDA in her name. The work NEDA does providing grants for research, critical information and support for families, and creating a community of understanding is invaluable.
National Network of Abortion Funds
I'm an advocate for a woman's right to choose, but that choice is meaningless if a woman doesn't have the means to make the decision. The NNAF provides funds to women who cannot afford an abortion. This one's an easy decision –  every woman needs to have the ability to make her own decision about having a child, no matter what her income is.
Jack William's Wednesday's Child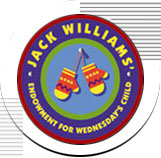 Jack Williams is a local television personality who has spent decades raising money for institutions and agencies dealing with adoption of special needs children. His endowment is coordinated by the Massachusetts Adoption Resource Exchange, provides money to those institutions and agencies, and fosters awareness of special needs kids looking for homes.
Community Dispute Settlement Center
I worked for CDSC while in law school. It's a private, not-for-profit mediation and training center dedicated to providing an alternative and affordable forum for resolving conflict that's run by an amazing small staff and a whole bunch of volunteers. The work CDSC does is invaluable – mediation helps people resolve their differences, helps curb the costs of litigation, and even helps bring families together.
These are just some of the great non-profit organizations I've donated to this year. I'm not a millionaire… in fact, many of my donations were under $50.00, but even those small donations help. It's important to me to put my money where my mouth is. I can't talk about change unless I'm using some of my change to help others.
So in the spirit of #GivingTuesday, I encourage you to donate, even a teensy amount, to the organizations doing the work YOU believe in. What are your favorite charities?